Great Crested Newt training for countryside management students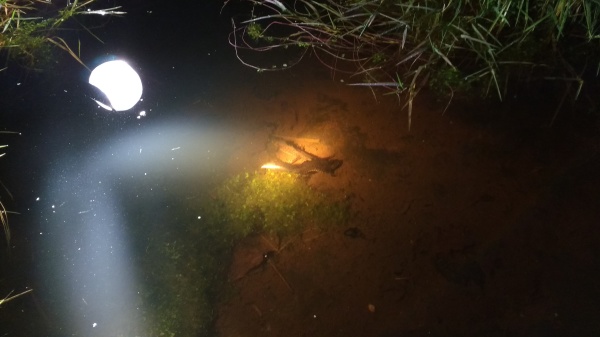 White Horse Ecology staff have had links with the
Kent Reptile & Amphibian Group
(KRAG) for over ten years and have carried out training and project co-ordination on behalf of the group.  This makes White Horse Ecology ideally placed to deliver training to students and other groups interested in the ecology of amphibians.
Hadllow College has contracted White Horse Ecology to deliver training each spring since 2012 to students on the Countryside Management courses.  This has involved both classroom sessions as well as a practical evening session where students get the chance to take a closer look at the amphibians that can be found in the ponds at Hadlow College.

Benefits of using White Horse Ecology
There are many benefits for both Hadlow College and their students for using us to deliver training including:
European protected species licences for survey work are held by White Horse Ecology
Students can learn more about a key protected species
Field skills are developed
Students learn how to carry out and calculate the Habitat Suitability Index (HSI) for a pond
Students gain skills that can be taken into the workplace and get to find out about the kind of work done by ecological consultants
Access to additional training and the chance to volunteer is provided through our links with KRAG
This is just one example of how White Horse Ecology can provide bespoke training for beginners up to degree level students. Contact us to find ut more about what we can offer you.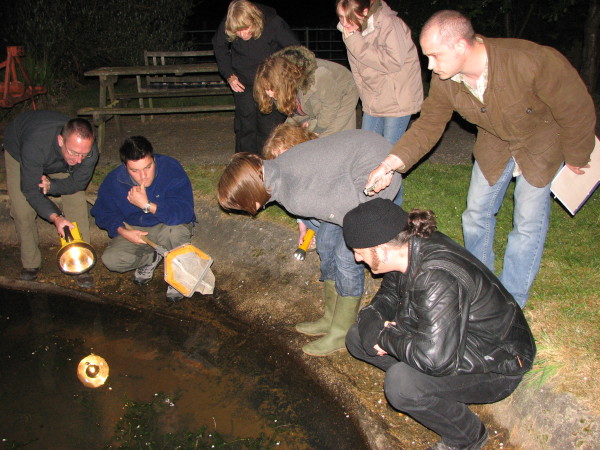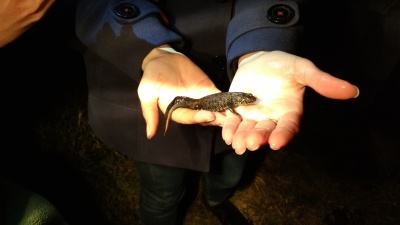 Left: students surveying with nets and torches
Right: Great crested newt